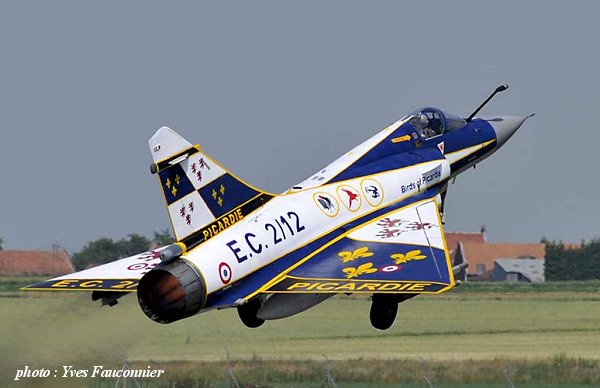 After sixty five years of service in the French Air Force, it is 14 years after the retirement of EC3/12 Cornouaille, on July 7th, 2009 on the Cambrai Air Base #103 that was dissolved the EC 2/12 Picardie Fighter Squadron.
Less known than its neighbour the EC1/12 Cambresis (Tigers), they shared the same base, and aircraft (Except Super-Mystere B.2 for Picardie which was in sleep); these two Squadrons have a close history.
Decorated with blue, white and yellow of the blazon of Picardy, and wearing the badges of the SPA172, SPA173 and SPA90 of "Birds of Picardie", it is in this sad occasion that the Mirage 2000C #117 received this blazing decoration.

Thanks to Mr Debarre, to the chief Sergeant Anselyn and to l'EC2/12 for their support and their precious help.

screen-printed decals (classic decals / no-ALPS) declined on two scales.

1/72 : 12,00 EUR (In stock)
1/48 : 16,00 EUR (In stock)

- (Free shipment from 50,00EUR)



/!\ NOTICE :

If you have problems with cart (only one item in cart),
I recommend to accept or adjust the "cookies" on the "cart page" (- see an example -)
or join your order by Email to get a paypal request

Information : The orders will be dispatched from 10th October

- This set 1/72 consists of :

- 1 decals sheet
- 1 A4 colored page of instructions (front / back)
- This set 1/48 consists of :

- 2 decals sheets
- 1 A4 colored page of instructions (front / back)