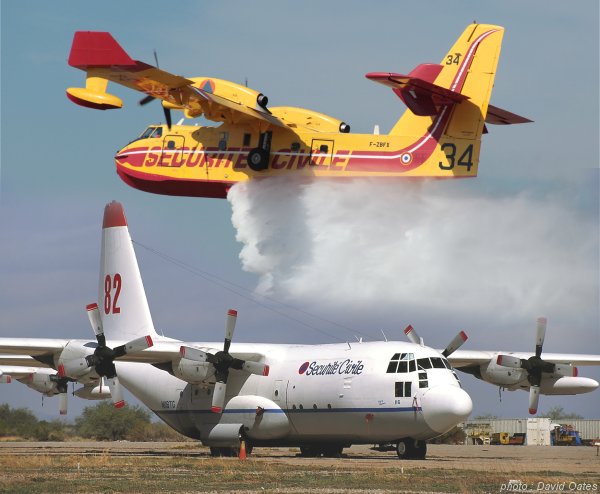 This decals set, including six sheets (3 on 1/144) contain all the markings to complete one Canadair/Bombardier CL-415 and one C-130A Hercules in French Sécurité Civile colors.


Canadair/Bombardier CL-415
Decals with all the registrations of the Canadairs (callsigned Pélican) en servicing in the fleet since 1995 in included, as far as there variant through the years. This permit to choice yourself which aircraft of any seasons.
Like for exemple: the Pélican 44 rent to Bombardier from 2004 delivered grey, it was repainted on 2005 and bought by Sécurité Civile on 2006.
and on bonus, the decals of Pélican 32 spécially painted on June 2013 for the 50th anniversary of French Fire Bombers.


C-130A Hercules
Also included in this set, the decals of C-130A Hercules 81 & 82 wearing French Sécurité Civile. Registered N117TG & N116TG, rent to the American firm International Air Reponse, they where used has heavy fire bombers, during seasons 1992 to 2000 (except 1997), to replace the DC-6s retired on 1990.
These C-130s were able to drop 12000L of water on only one pass. Sadly one of them crashed at the end of 2000 season and this accident stopped the use of heavy aricrafts in France until, 2005 when two Dash 8 Q400MR was bought and delivered to french Sécurité Civile.

screen printed decals (classic decals - pre cutted / no-ALPS) declined on two scales.

--------------------------------------------------------------------------------------------------------------------
Special offer : The packs"Decals + Book" are proposed below on each scales
Including the full decals set and the book Canadair CL-215 & CL-415 (French / English).
by Frédéric Marsaly and Samuel Prétat - (More informations below)
--------------------------------------------------------------------------------------------------------------------

1/72 : 15,00 EUR (Sold out) Notify me if available again
1/144 : 11,00 EUR (In stock)
72-912 + Book : 25,00 EUR (+ shipping) (Sold out) Notify me if available again
144-912 + Book : 20,00 EUR (+ shipping) (Sold out) Notify me if available again

- (Free shipment from 50,00EUR)



/!\ NOTICE :

If you have problems with cart (only one item in cart),
I recommend to accept or adjust the "cookies" on the "cart page" (- see an example -)
or join your order by Email to get a paypal request

Information : The orders will be dispatched from 10th October

- This set 1/72 consists of :

- 8 decals sheets (4 larges + 4 smaller)
- 1 colored instructions booklet of pages 24 (A5 size).
- This set 1/144 consists of :

- 4 decals sheets (1 large + 2 mediums + 1 small)
- 1 colored instructions booklet of pages 24 (A5 size).
Discover here the most complete book about the famous Canadair CL-215 & CL-415
(by Frédéric Marsaly and Samuel Prétat - ISBN 978-2-9541818-0-6) - (French & English)


A complete study of the famous Canadian seaplanes Canadair CL-215, 215T and Bombardier 415

64 color pages dedicated to this fantastic family of fire fighting scoopers with a bilingual text illustrated with many of the 140 color pictures never published before, 3-view drawings and 24 specially commissionned color profiles. Also featured are a photo section showing many external and internal details, full production list and detailled worldwide users, all in a large 12.60 x 9.45 in. format .

These planes are the only ones specially designed to fight wildfires but these "flying fire-engines" are also used for maritime rescue and surveillance. Discover the multiple missions of the Canadair/Bombardier marvel in this French/English book providing you with a complete developmental history and the detailed list of all worldwide civilian and military operators.