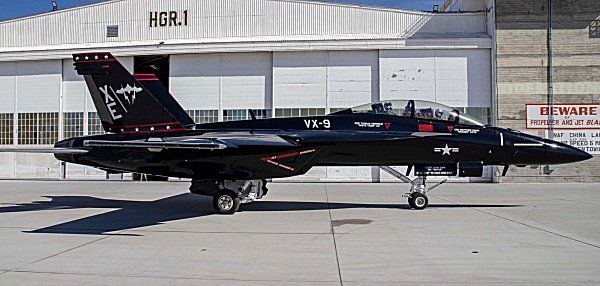 Since the 1950s, VX-4 was the U.S. Navy's Air Test and Evaluation Squadron Four, testing and evaluating weapons and equipment, and developing tactical procedures for other Navy squadrons.
Late 1960s, during the Vietnam War, the VX-4 based at NAS Point Mugu (CA) was testing night operating procedures, so some of their F-4 Phantoms received for first time an overall gloss black scheme adorning the bunny of famous "Playboy" magazine on the tail fin.

Over the years the unit had several F-4Js then F-4S Phantom in "Black Bunny" schemes (and one "White bunny") as CAG aircrafts, with callsign "Vandy One".
when the F-4 Phantoms were retired from the VX-4 in 1987, one F-14 Tomcat was painted in overall black scheme for the ceremony, a few other F-14A to D Tomcats were also painted in "Black bunny" later.

In 1994, the VX-9 took over the assets of the VX-4 when it disbanded, The last F-14 "Black Bunny" became "Black Vampire" receiving the Bat instead of the Rabbit, but retained the "Vandy One" callsign.

Today, VX-9 "Vampires" Air Test and Evaluation Squadron Nine is based on NAWS China Lake in the middle of California desert, flying F/A-18E/G Super Hornets and EA-18G Growlers
(a detachment of VX-9 also flies on F-35C, based on famous Edwards AFB)

In March 2023, honoring the past of the VX-4 and VX-9 Squadrons, the F/A-18F Super Hornet BuNo 166673 was painted in gloss "Black Bunny" style with the "Vampire" on the tail, she still called :
"Vandy One" !.

1/72 : 8,00 EUR (In stock)
1/48 : 10,00 EUR (In stock)
1/144 : 6,00 EUR (In stock)
1/32 : 13,00 EUR (In stock)

- (Free shipment from 50,00EUR)



/!\ NOTICE :

If you have problems with cart (only one item in cart),
I recommend to accept or adjust the "cookies" on the "cart page" (- see an example -)
or join your order by Email to get a paypal request

Information : The orders will be dispatched from 10th October

- This set 1/72 consists of :

- 1 decals sheet
- 1 A4 colored page of instructions (front / back)
- This set 1/48 consists of :

- 1 decals sheet
- 1 A4 colored page of instructions (front / back)
- This set 1/144 consists of :

- 1 decals sheet
- 1 A4 colored page of instructions (front / back)
- This set 1/32 consists of :

- 2 decals sheets
- 1 A4 colored page of instructions (front / back)