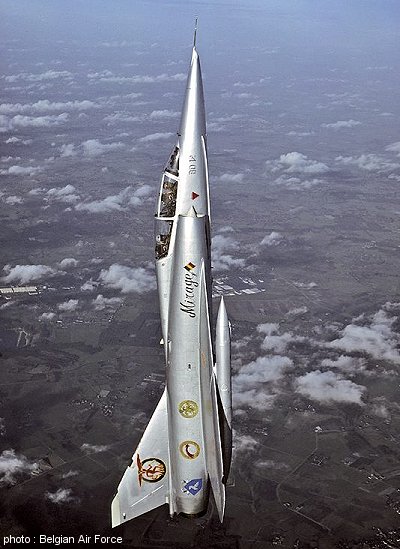 The Mirage 5 are aircrafts derived from the Mirage III mainly intended for ground attack.
Belgium received the first Mirages from 1970, replacing its F-84F and RF-84F:
- Mirage 5BA : Attack single-seater (63 units)
- Mirage 5BR : Reconnaissance single-seater (27 units)
- Mirage 5BD : Tandem training (16 units)

In 1993 Belgium decided to retire its Mirage 5 while they were being modernized to the "Mirsip" standard. The Mirage 5 BD12 was specially overall painted in silver, for the farewell of the Belgian Mirage, it bears the insignia of the four units that flew on Mirage.
- The 1st Squadron "Chardon"
- The 2st "Comet" Squadron
- The 8th Squadron "Cocotte"
- The 42nd Squadron "Mephisto"

In 1994, the Mirage 5 BD12 was the only Mirage 5BD sold in Chile, although it had not been modernized to the "Mirsip" standard; now M5BD Elkan n°725 within the Fuerza Aérea de Chile, it will be retired from service and preserved at the entrance of Cerro-Moreno airbase.

1/72 : 7,00 EUR (In stock)
1/48 : 10,00 EUR (In stock)

- (Free shipment from 50,00EUR)



/!\ NOTICE :

If you have problems with cart (only one item in cart),
I recommend to accept or adjust the "cookies" on the "cart page" (- see an example -)
or join your order by Email to get a paypal request

Information : The orders will be dispatched from 10th October

- This set 1/72 consists of :

- 1 decals sheet
- 1 A4 colored page of instructions (front / back)
- This set 1/48 consists of :

- 1 decals sheet
- 1 A4 colored page of instructions (front / back)