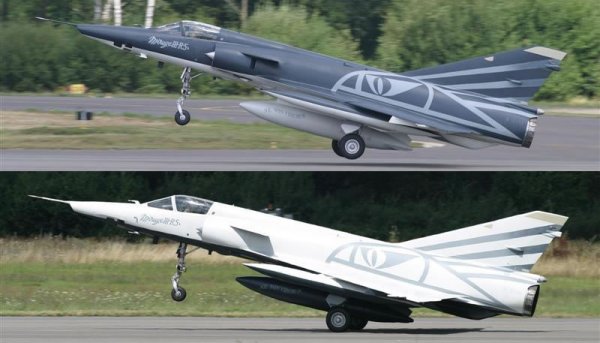 On 2003 the Swiss Air Force retired the lasts Mirage IIIRS.
For this event the aircrafts R-2110 and R-2116 received a same special medium grey scheme applied on mirror, one on Dark Grey background, the second on White/grey; each with negative colors on bottom side.
The result was really fine during close formation flight or when they was on static display.

First screen-printed decals sheets (classic decals / No-ALPS).
this decals set contain all the markings the make the two aircrafts (R-2110 & R-2116).

1/72 : 11,00 EUR (In stock)
1/48 : 14,00 EUR (Sold out)

- (Free shipment from 30,00EUR)
!!! NOTE: The next orders dispatch will be made from July 23th, 2019 !!!
- This set 1/72 consists of :

- 1 decals sheet (+1 addition)
- 1 A4 colored page of instructions (front / back)
- This set 1/48 consists of :

- 2 decals sheets (+1 addition)
- 1 A4 colored page of instructions (front / back)